Baby Unit Garden!
Baby Unit Garden!
20 May 2014 (by stationhouse05)
The Baby Unit are excited to try out their new garden!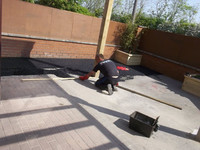 The babies have been fascinated by all the developments going on outside their Kitchen window! From porch dismantling, new canopy constructing, fence building, flower planting, new sprung floor laying...the 'carparking space' has been transformed into our very own private garden, enabling all the babies to experience the outdoors flexibly around their individual care routines! We can't wait to get out there!