The Ladybird Room Renovation!
The Ladybird Room Renovation!
23 March 2017 (by stationhouse05)
Welcome to our new room!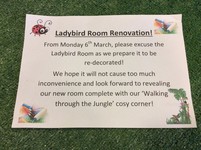 The girls in the Ladybird Room have been very busy over the last two weeks re-decorating the Ladybird Room and designing and creating a new, fabulous 'jungle' cosy corner! The children (and practitioners) are all loving their fresh, exciting new room and lots of fun is being had in the twinkling jungle! Thank you for all your lovely feedback, we really appreciate it! Please visit the Ladybird Room Learning Area to see our fabulous new space!