As part of the baby unit, we place a high emphasis on forming special relationships with each child ensuring they feel safe, confident and happy to be at nursery, through lots of cuddles, sharing books 1-1 and following their interests.
In addition, we design our room and provide further opportunities and resources for them to explore, develop their independence and practice more complex play.
Within our room we have different areas to support the children in their play:
Home Corner - Creative/Messy Area - Cosy and Book Corner - Small World Play - Problem Solving – Sensory Basket – Musical Instruments - Freeflow patio doors to the garden - Plus a range of interactive, velcro'able, child level displays that have been created as a response to children's current interests and designed to include a range of learning opportunities, e.g. colours, shapes, textures, size, number and key vocabulary.
Welcome to our new Ladybird Room - March 2017!|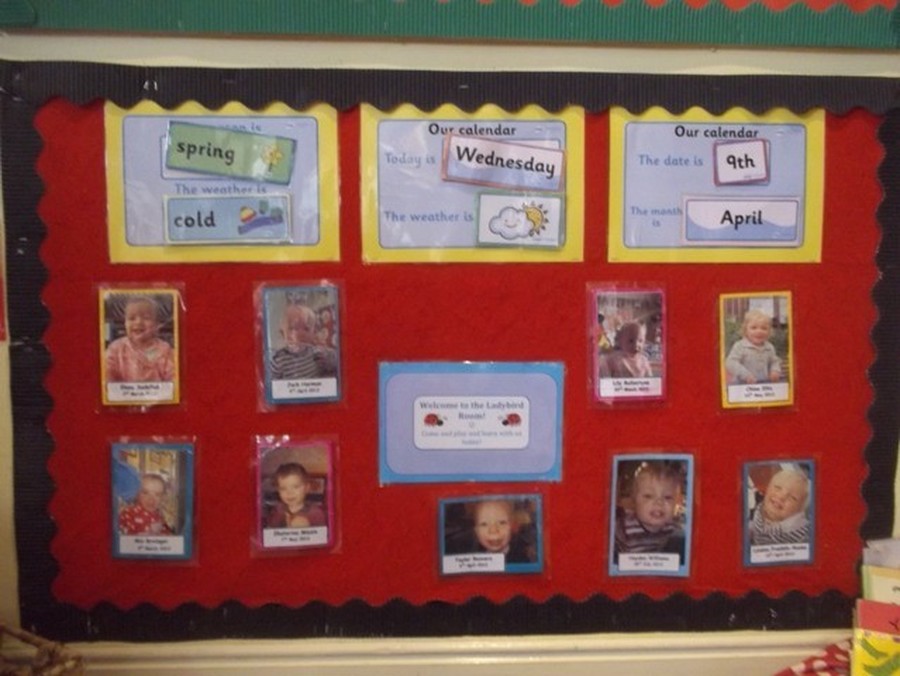 The Ladybird Room Welcome Board

We all love our morning/afternoon Welcome Circle Time!
Using our daily board we support each other in recognising our friends present; in learning and saying our own/each others' names; in noticing and talking about the current weather and in developing an early awareness about the days of the week, date, month, and season.
Our favourite part is when we sing "The Name Song" and each of us gets to dance/jump up and down before adding our photo to the board!

The Ladybird Room Creative Corner
This is our creative corner - this is where we enjoy getting stuck in and messy! Whether it be fishing, bathing babies, exploring gloop, jelly, porridge oats or slime, we have a fabulous time exploring media and materials in our large water tray!
The sand-pit is always busy! As we dig, pour and fill we develop our awareness of volume and capacity while building sandcastles, making sand pies, finding hidden treasure and discovering buried bugs!

Moving on to mark-making, where we start to develop our co-ordination, make a range of marks: lines, dots, squiggles, begin to represent shapes and things (Lily: "spider"), explore colour and are encouraged to be proud of our creations! Through using chalks, pencils, pens and paint we start to develop control in our pincer grip, an awareness of the effects our movements make on marks and begin to develop an early awareness of Literacy (Elena:"I'm writing!").


Our Free-Flow Garden Doors

In the Ladybird Room we are lucky to have our patio doors out onto the garden!
This enables us to enjoy free-flow inside-outside play, allowing us to be independent in our choices of activities.










The Ladybird Room Home Corner

Welcome to our Home Corner!
Here we have great fun developing our imaginary play and role-play repertoires.
We love to look after our babies and imitating what we see at home and nursery.
Through feeding, cooking, washing up, patting our babies off to sleep, bathing them and taking them "to the shops" in their pushchairs, we demonstrate our knowledge and understanding of people and communities while re-creating our experiences. Sometimes our teddies and dolls feel poorly so we need to get out doctors kit out to make them better!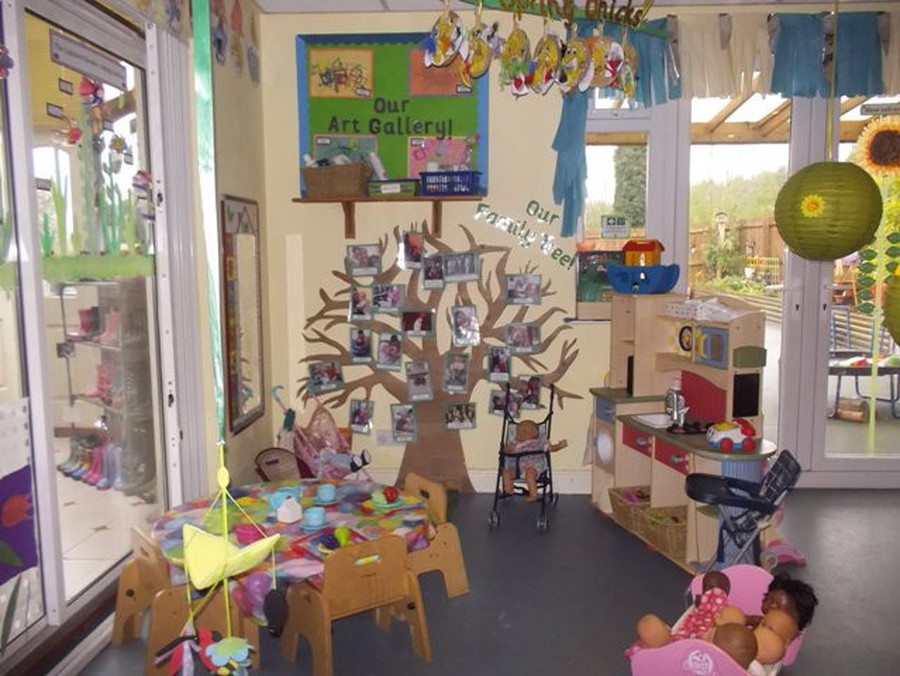 The Ladybird Room Family Tree
We use our Family Tree to talk to each other about our families.
We develop our independence by removing, manipulating and replacing each photo as we use them in observation, discussion and comparison between families.
We all love finding each of our family photos and show great pride in showing them to our parents when they pick us up!
We also enjoy looking at others' family's photos, and finding Mel and Lisa (Ladybird Room practitioners) in their family photos!
Our family tree helps us develop our language and communication and self confidence and self awareness, while demonstrating our sense of own immediate family and relations.
The Ladybird Room Window Display
Our window into the conservatory allows us to wave madly at our friends and parents when they arrive/leave nursery!
It also provides another area for us to decorate!

We use our window display to explore light and colour and try to use a range of resources and colours to make different stained glass effect crafts!
At the moment we are creating a Spring Garden with painted bottle base flowers! We also love making our own flowers using our different jigsaw pieces as we learn about the different parts of plants!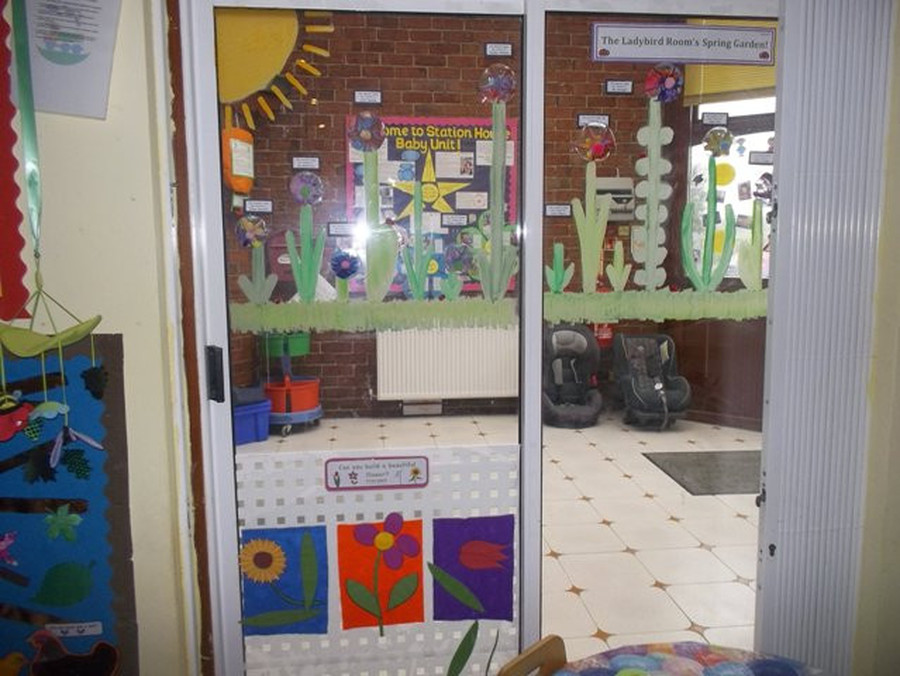 The Ladybird Room Interactive Display Board
Our interactive display was developed as a response to repeated observations of our children enthusiastically pulling blue-taked pictures off the wall and re-sticking them in different places!
From these observations we recognised a need for an area where the children could demonstrate their independence, personal choice and transporting/ positioning / connecting schema skills.
We therefore developed the idea of a velcro'able interactive board, which would allow the children to freely move a wide variety of images without deconstructing current displays!
Currently our interactive display is 'Discovering Spring!' where our children can explore spring flowers, identify shapes in our blossom patches, match baby and mum animals, thinking about differences in size and practise their counting skills. Our lovely display resource also provides opportunity to explore a range of textures and for the children to express their autonomy through re-designing the display.
The Ladybird Room Music Mat
Our Making Music Mat is an opportunity for the children to explore a variety of musical instruments we have on offer.
These include xylophones, maracas, tambourines and castanets, which enable the children to experiment with speed, volume and tempo.
The area also contains a number of hanging Sensory Bottles which have a range of objects inside including quiet feathers, rattling beads, thudding pompoms and jingly bells which the children love to use to explore loud/quiet sounds and to make their own music!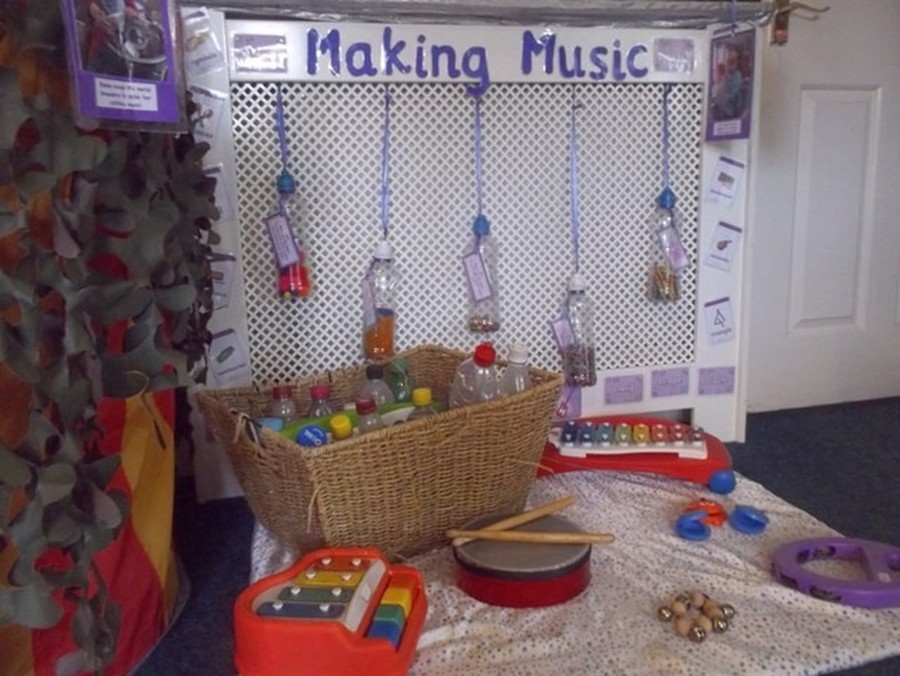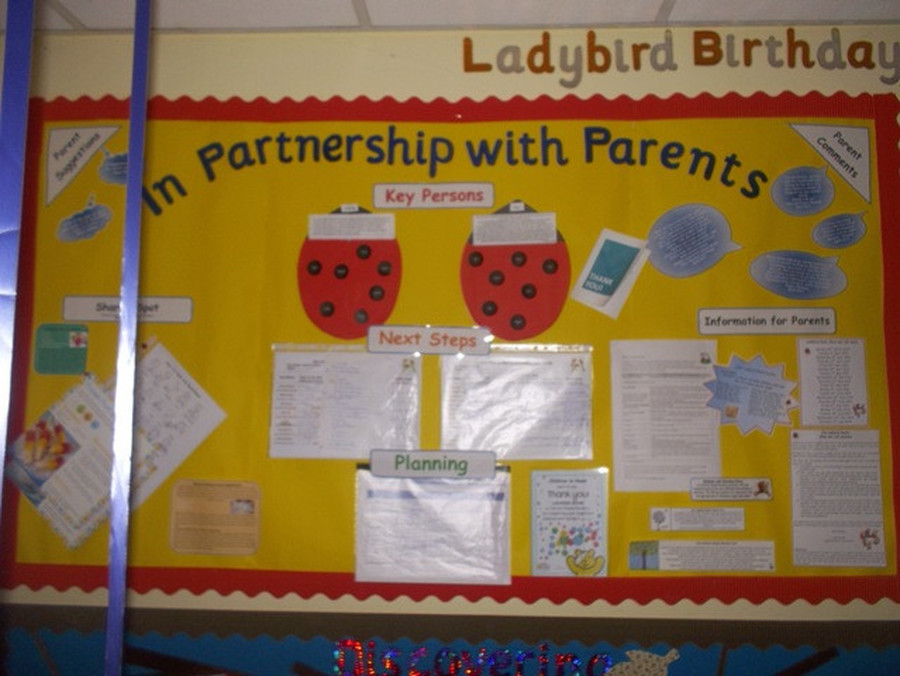 The Ladybird Room "In Partnership with Parents Board"
Our Parent notice board is an important part of our room that is designed to inform, present and share ideas.
We display our Next Step and Weekly Planning so you are able to follow your child's interests and development at nursery.
Information such as Show+Tell dates, the Sickness/Exclusion policy and Ladybird Room achievements (e.g. money raised for Children in Need) are also displayed for your information!
We love to receive feedback/Thank You's from Parents and are keen (with permission) to display these for others to see! We also welcome any suggestions and aim to work achieve these to improve our practice as we strive to be the best in what we do!
If there is anything else you would find useful on our parents board, please do not hesitate to let us know!
The Ladybird Room Independent Choice Unit
Our independent choice unit enables the children to have free choice over the toys they play with.
They are able to show their independence and express their interests as they select from a range of jigsaws, sensory blocks, variety of animals and insects, problem solving activities, ICT toys, building blocks, cars/vehicles and train/track.

The children are encouraged to incorporate these resources in other areas of play, from playing with the animals in the sand, using the building blocks as drums in the music area, or taking a jigsaw into our cosy corner for a bit of quiet play.
Through these resources the children are supported in all areas of development. For example, developing their hand-eye coordination as they connect the train track, demonstrating their understanding of shape and space by matching jigsaw pieces into inset boards and beginning to problem solve as they tackle resources requiring different techniques, such as twisting, posting, lifting, pushing, pulling.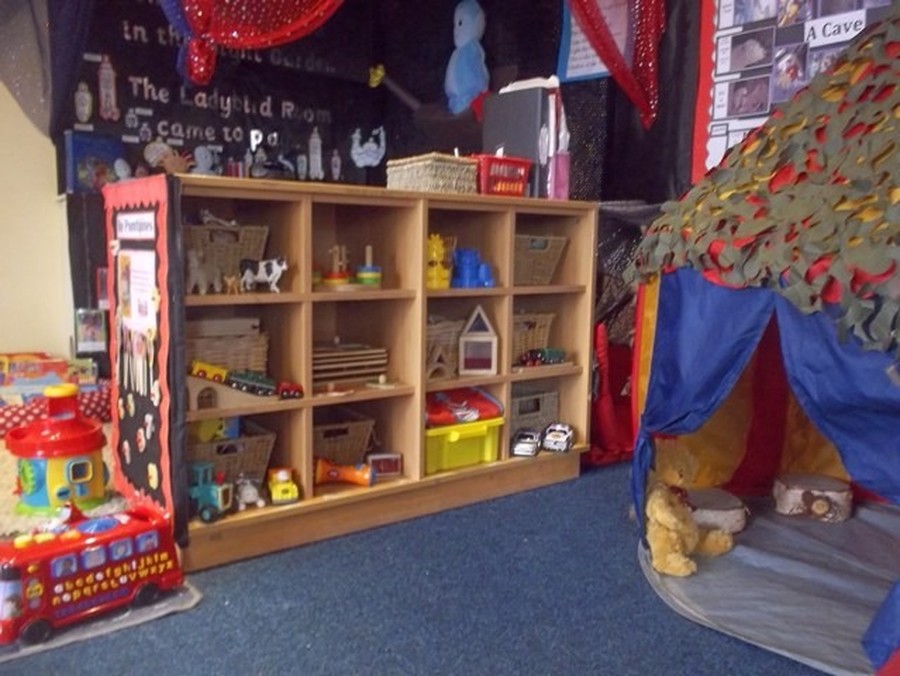 The Ladybird Room Cosy Corner
Our cosy corner is one of our favourite areas in the room! With it's twinkling stars, textured fabrics, secret tunnel and comfy cushions - it is the perfect place to snuggle up and share books together!
We like to base the area on a favourite book or book character to enhance the children's imaginations for story-telling.
Currently, following the interests of our children, we have created our very own "In the Night Garden", complete with character toys, emotion face mask puppets, books and interactive Pontipine counting boards. Previously we had a "Whatever Next!" area incorporating space and rockets, and before that, a "Goldilocks and the Three Bears" area with a focus on size and story role-play.