Ladybird Room
(1-2 years)

Welcome to the Ladybird Room!
Practitioners Mel and Lisa D have a fantastic time working with the older babies [aged 16*-24months] as they learn to toddle, walk and undoubtedly... begin to charge around and climb about!
*16 months: Please note, we do not uphold a set 'age' range for the Ladybird Room. Rather, the decision is made based on the child and their stage in development as to when we feel they are ready to make the transition from the Butterfly Room.

A personal message from Lisa and Mel:
"We love our Ladybird Room and have great fun with the children as they each begin to develop their individual personalities! We support each child as they grow in strength in their physical skills, ability in communication (verbal and non-verbal) and in their confidence with peers and practitioners.
Our aim in the Ladybird room is to develop cherished relationships with the children and their families in order to create seamless transitions between home and nursery. Thus, together we create the optimum environment for each child to be nurtured in growing in confidence, skill and personality."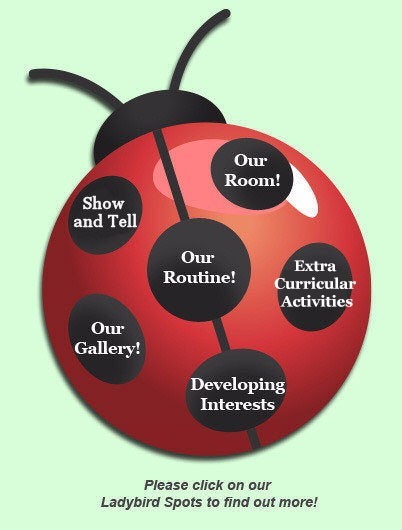 "Using our Key Person approach we each follow the children's individual interests from home and nursery and we plan personalised activities that will help develop their abilities and extend their interests. Our secure understanding of the EYFS ensures we focus on the 3 prime areas dedicated to the under 2years:
Personal, Social and Emotional Development; Communication and Language and Physical Development as we recognise the importance of a secure base before trying to develop understandings in the additional 4 specific areas:
Mathematics, Literacy, Understanding the World and Expressive Art and Design.
Nevertheless within our planning we provide opportunities and resources that include aspects of the specific areas to support our individual children's interests and their very inquisitive minds!"