York's Children's Centres

Children Centres were developed by local authorities [LAs] as a response to the Childcare Act 2006 which states that LAs are to play "an important strategic role in the provision of childcare in their area".
We currently have 9 Children's Centres situated across York positioned to support parents and improve the outcomes for young children and their families, with a particular focus on those greatest need. The children centres are designed to make sure all children are properly prepared for school, regardless of background or family circumstances. They achieve this by offering 8 Parenting Stops, which you and your child are invited to attend.

If you are registered with a children's centre and you're 32 weeks pregnant or have a baby or child at any of the ages of the 'Stops', then you should shortly receive an invitation to attend a parenting sessions. At these sessions, an age-related topic will be discussed, support and guidance given and you will receive a gift related to the topic of the session.
If you aren't registered with a children's centre, please contact your local children's centre to register. Please note, you will also need to register your child after birth to receive invites to the Parenting Stops.

If you are unable to attend the Parenting Stop at your local Children's Centre, please feel free to drop in to another centre if their sessions are easier to attend, as although you are registered at one, you are able to visit any!

We hope you take full advantage of your local Children's Centre, as they are there to support you and your family!

For more information about each of the York Parenting Stops, please click here!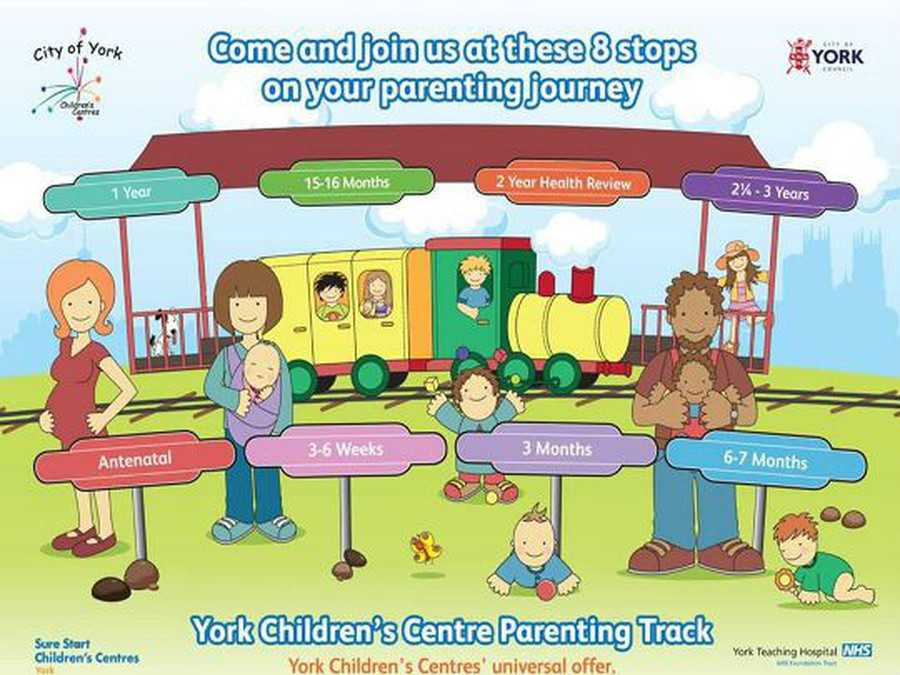 Antenatal: A session offered once a month to all expectant parents that offers advice and information on giving your child the best start in life and to learn more about children's centre services.

3-6 weeks: An informal and supportive session for parents of young babies to find out about the services available in your local area, whilst having the opportunity to engage with other new parents and babies of a similar age in a relaxing and calming environment.

3 months: A practical session for parents with three month old babies which offers advice and information about weaning your baby at six months.

6-7 months: A session to offer advice, support and information about making your home a safe place for your child.
1 year: A fun interactive session exploring how you can support and understand your child's speech, language and communication development.
15-16 months: Come to find out about 'Five-a-day for Learning & Development'. This will include ideas for simple, practical activities to enjoy with your child each day, which will support their learning and development.
2 Year Health Review: An exciting play session with the opportunity to discuss your child's health and development with a Heath Visitor and Children's Centre Staff.
2 1/4 - 3 year: Termly event where education, training and employment organisations showcase the opportunities available within the city. Parents will have the opportunity to find out more about these including how to access childcare, early education and benefits.