Charity Fundraising!

At Station House Nursery we are proud to support our local community and wider charities!
Through cake bakes, raffles and sponsored events we work our hardest to raise as much money as possible to help others!
We are very grateful to our wonderful children, their families and the support we receive from the local businesses who have helped us raise thousands of pounds!
WEAR IT. BEAT IT. Fundraiser - February 2015
At Station House Nursery we are aiming to raise as much money as possible to support The British Heart Foundation.
A charity that is very close to our hearts.

We are planning a RED themed fundraiser which you are all welcome and encouraged to take part in!
Wednesday 4th - Friday 6th February 2015!

Recycle Red: Can you help us recycle as many red things as possible to create a beautiful Heart mosaic?
Eat Red: Can you suggest any 'red themed' recipes for Iain to cook for nursery?

Dance Red: Can you be sponsored to take part in in our "Healthy Hearts" dance?
Don't panic if you have lost your sponsor form, you can download a new one here! - *Sponsor Form*

Wear Red - Wear Red to raise awareness Wednesday - Friday and please donate :)
Cake Sale - Enjoy lots of yummy treats, Wednesday - Friday!
Pot Luck Jam Jar Raffle - Jam Jars available in Reception if you wish to create a prize. Tickets on sale all week.
Raffle drawn Friday 6th Feb!
Explore Red! - Join us in exploring lots of red sensory activities!
Oscar's Fund! - May 2014
Thank you all for helping us raise a staggering £2,175 for Oscar's Fund.
Oscar, a former child of Station House Nursery was diagnosed with Medulloblastama in February 2013, after successful treatment Oscar went into remission. In March 2014, after suffering stroke-like symptoms, it was found that Oscar had relapsed and had cancer cells all over his brain and spine.
There is no known cure for this relapse, however there is promising research and clinical trials starting in America that could give Oscar the chance he needed to lead a full life.
£150,000 needed to be raised for Oscar to go to America to take part in these.
http://www.gofundme.com/fightingforoscar
Tragically, Oscar passed away during our fundraising fortnight, but our fundraising money will be donated by his family to the Brain Tumour Charity to help other children in the same situation.
Through an amazing raffle, yummy cake sale and all the children taking part in their foootball themed sponsored challenges, we were proud to support this fund.
The children all enjoyed tackling their: 'Attack' - 'Defend' - 'Strike' challenges!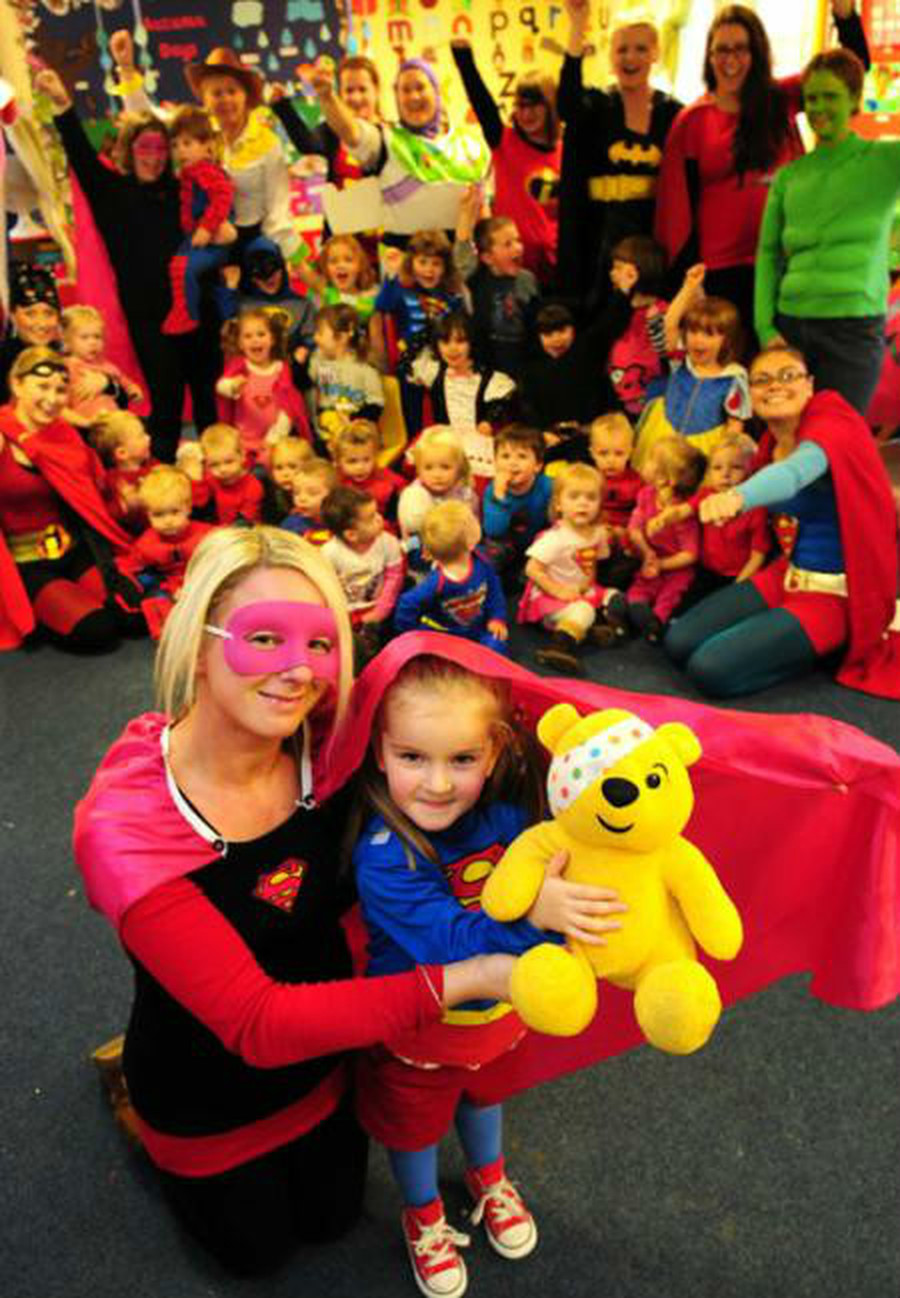 Children in Need! - November 2013
Thank you for helping us raise an amazing £995 for Children in Need!
We are so proud of all our children for completing their Superhero missions at home and at nursery and for coming dressed up as their favourite Superheroes!