Mud Kitchen Development!
Mud Kitchen Development!
5 June 2014 (by stationhouse05)
Please help us collect resources for our Mud Kitchen!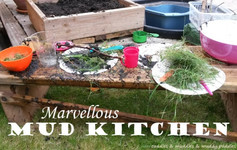 We are excited to plan our very own Mud Kitchen for the main nursery garden! We are asking you to help us resource our Mud Kitchen by donating any old pots, pans, utensils, cupboards etc... For more information on the opportunities of Mud Kitchens, please visit our 'Learning Areas' - 'Nursery Garden' page!