7.30am

Welcome and Breakfast

8.30am

Registration and Calendar

9.00-11am

Focus Activities / Free Play

9.45am

Cafe Style Snack

11.00am

Tidy up time

11.45pm

Lunch Time

1.00pm

Outside Play!

2.00pm

Registration and Cafe Style Snack

2.15pm

Free Play and Organised Activities

3.00pm

Tidy up time

3.15pm

Group Time

3.45pm

Tea Time

4.30pm

Outside Play!

5.30-6.30pm

Home Time

We also enjoy our French class on a Monday morning and our Stretch and Grow exercise class on a Tuesday morning!
The Sunshine Room Creative Area
While playing in the Creative Area we can get involved with lots of fun activities. We can paint, stick, chalk, and explore a range of textures and materials and create our own junk models. In the Messy Tray we love shaving foam, gloop, oats and jelly and we love mixing and pouring when we explore the dry food bowls!
Whatever our interest there's something here for everyone that will provide a stimulating and fun learning opportunity.

The Sunshine Room Water Play and Potion Making Station
In the water area you'll find lots of interesting toys to explore. We have water mills, jugs, test tubes and much more for pouring, filling and mixing and a whole aquarium of under water animals to take for a swim! When we play in the water area we learn about measurements such as size and weight and it's also a great opportunity for us to investigate cause and effect.

Or, how about playing in our potions area? Can you mix some potions together and cast a magic spell?
Don't forget the magic words...
Abracadabraaa!!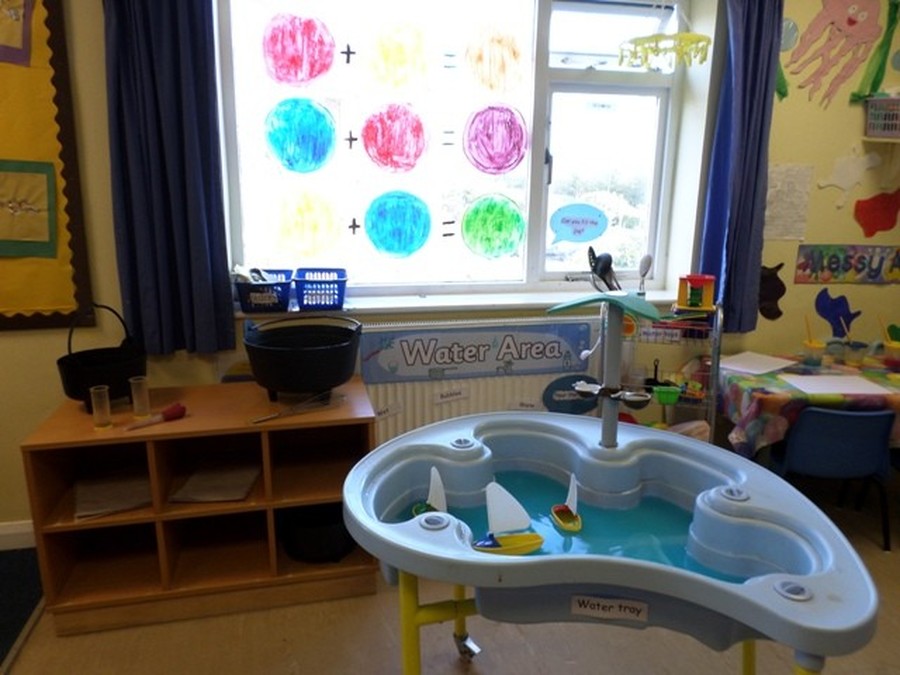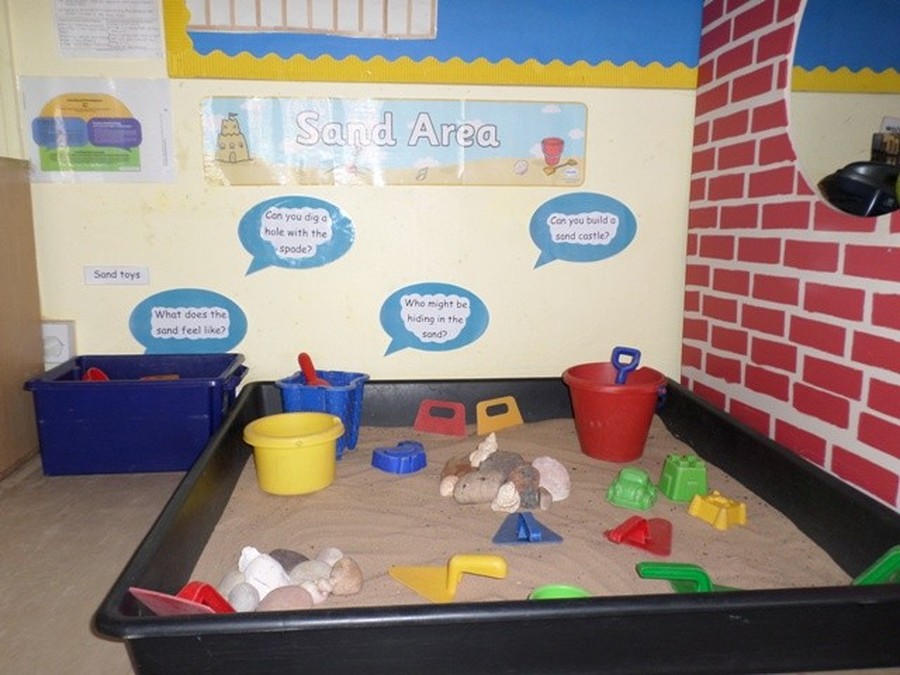 The Sunshine Room Sandpit!

Our Sand area is where we can explore our construction skills and develop our imaginations. We love digging and making patterns in the sand. Our floor level sand tray offers us access in groups to work together to make some super sandcastles!









The Sunshine Room Maths Area
Through a variety of activities we begin to learn about numbers, shapes and size in the Sunshine Room. We have puzzles, board games, magnets, dominoes and so much more!
Why not come and explore patterns with the beads with us, or make your own shapes with the magnets? Pirate snap is a favourite game, helping us to learn about matching, categorising and taking turns too!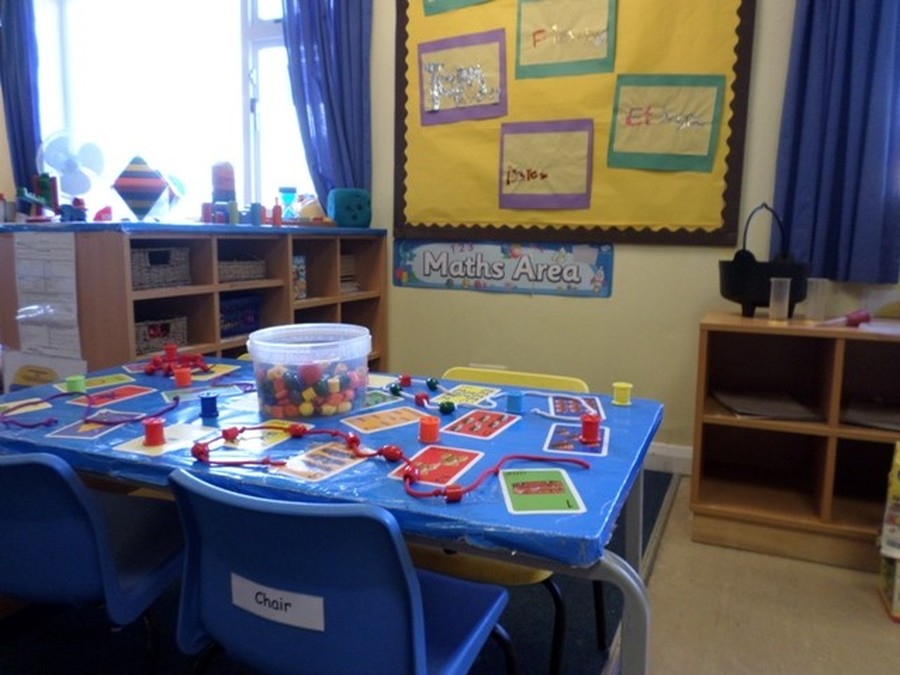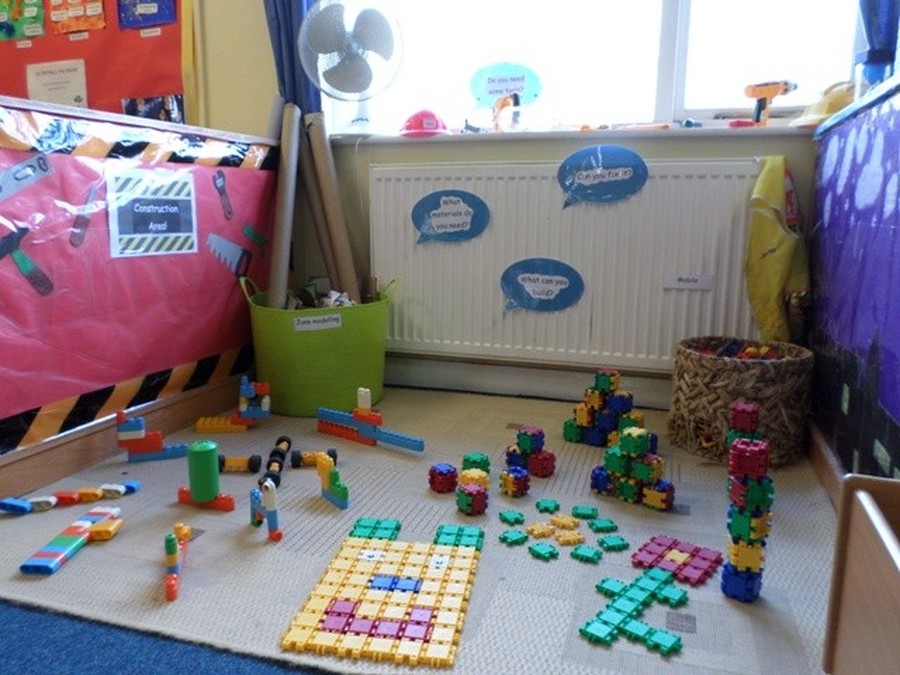 The Sunshine Room Construction Area!
In the construction area our imaginations explode! We use lots of materials to build and create with. Using lots of different building resources we build models and props to support our play. The builders hats and tools are always being used and the Sunshine Room has lots of little 'handy' people who help the grown ups by fixing things all day long! The construction area supports us in developing our physical skills, creative skills and helps us learn about planning and working together with our friends.

The Sunshine Room Small World Area
The small world area offers us a whole world of play opportunities to develop our imaginations and language skills and develop our understanding of the world around us. Here we can explore our large dolls house, build a castle or go sailing with the pirates on the pirate ship! We use puppets, animals and some very interesting bugs to make up games and bring our imaginations to life!
The Sunshine Room Mark Making Area
The mark making area is one of our favourite areas! We love drawing, colouring, chalking and writing and create lots of wonderful pieces through adult led activities and independent opportunities.
We can explore a range of colours, materials and tools which helps to support our early writing skills and promotes language in a fun and exciting way!

The Sunshine Room ICT Area
In the ICT area we have access to a range of technological toys. We love to use the CD player and dance, we are at the age where we love making up our own dance routines and showing each other how we can explore our physical development, We also use the cameras and computers to take pictures and play games helping us to develop our knowledge and understanding skills.

The Sunshine Room Role Play Area
The role play area is another popular area in the pre-school room! We love getting involved in dressing up, cooking in the kitchen, looking after the dolls and going for picnics! We also love playing in the ever changing role play house which changes with our interests and has been all sorts of things from a jungle hide out, a doctors, a train station and even a pirate ship!

The role play area helps to develop our imaginations and story making skills. We have the opportunity to work out and practise skills and ideas that we see in the world around us. The role play area also gives us lots of opportunities to play in groups and develop our negotiating skills and learn to play cooperatively!
The Sunshine Room Book Corner
We all love reading in the Sunshine Room! We spend lots of time looking at books and using the puppets to make up our own stories. The Gruffalo, Some Dogs Do and The Bear Hunt are some of our favourite stories! We have lots of books to chose from, from fairy-tales to books about our body. We learn lots from sharing books and taking about all the subjects they cover.
The book corner is also the area where we can explore our emotions with a variety of props to help us. We learn about our own feelings and others and our Emotions Tree is very popular to help us understand our developing feelings. The book corner is also the area where we have our daily group times, reading, singing and sharing experiences. Group time allows us to express our own thoughts and opinions and begin to take account of our friends' ideas and thoughts too! Group time is a fantastic way of promoting our language skills through adult modelling and through observing our friends!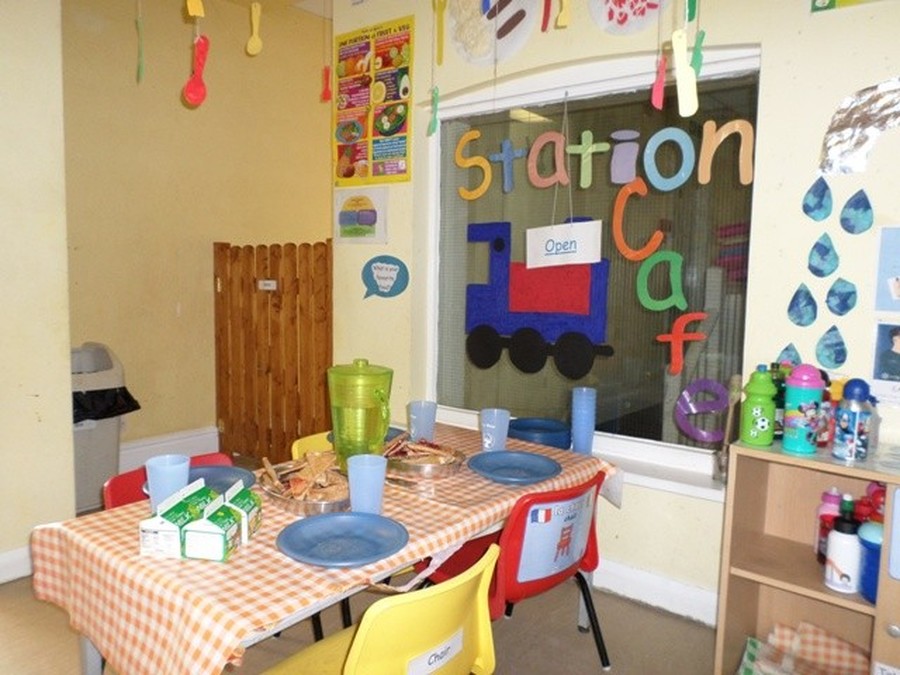 The Sunshine Room Snack Area and Water Station
Our cafe style snack area provides us with a great opportunity to interact with our friends in a relaxed and open environment. The snack area is set up each day to promote our independence skills as we serve our own snacks and pour our own drinks. We can talk to our friends and it's also a great opportunity to learn about our bodies' needs and healthy eating. The snack area is also where our water station is. We have our water bottles and cups at the ready all day to refuel whenever we need to. Being a busy pre-schooler is thirsty work!



The Sunshine Room Bathroom!