The Butterfly Room is a large, bright and open room with a collection of carefully designed and created areas to support your child in their first experiences in Nursery. As a unit, it prides itself in housing it's own Baby Kitchen and eating area, Nappy Changing/Potty Facilities and Sleeping Area.
The Butterfly Room is currently undergoing some very exciting changes, including a new interactive Sleep/Play area divider and the development of our very own private baby garden!!!
The Butterfly Room Black and White Area
This area is for the younger babies to help them focus on individual objects rather than being over stimulated with many colours. We have lots of hanging stars, shapes and baubles for the babies to watch and follow, creating a calming environment.
We incorporate activities within this area such as shredded black and white paper, white shaving foam and gloop to provide opportunities to explore media and materials.
The Butterfly Room Music Area!
In this area the babies enjoy choosing different instruments from our basket to shake, bang and play.
We are able to use our senses to explore different sounds and tones such as loud and quiet.

The babies like to help make sensory bottles using a range of materials such as pasta, rice and colourful water with glitter to shake and roll!
Another favourite is to make our own music using metal pans and wooden spoons!


The Butterfly Room Book/Cosy Corner
The cosy corner is filled with a variety of colourful cushions and soft rugs for the babies to relax and make themselves comfy on while we read stories together.

We have a range of books including soft material books, musical books, textured books and adult-led story books which are enjoyed by all during story time, particularly when read with the additional use of puppets and soft toys as props!
The babies are able to choose and explore the books freely throughout the day and often like to climb inside the book basket for a better look!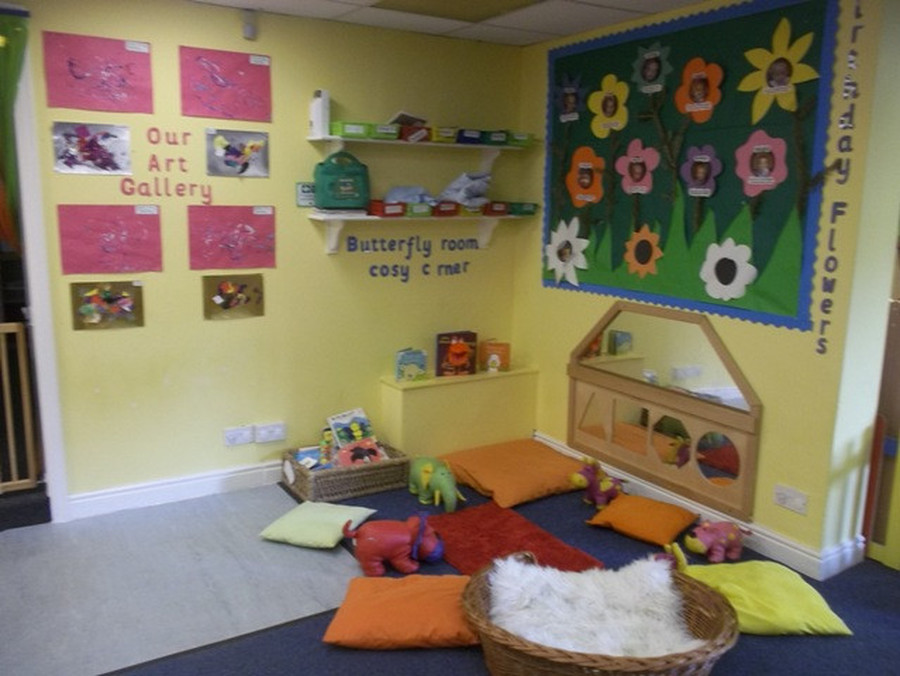 The Butterfly Room Creative Area
Our creative area is where the children are able to explore different textures and get messy! We have a range of daily activities including playing in the sand, mark making in shaving foam, gloop and corn flour which provide opportunities for the early skills of writing to develop through mark making.
The babies also enjoy painting and sticking, often involving their whole bodies to explore the materials, developing their gross motor skills.
We learn to use a range of tools to create our little masterpieces such as pencils, paintbrushes and glue spreaders.
Babies also have fun playing with water, pouring and filling containers and undoubtedly, splashing away and getting very wet (expect changes of clothes!).
As our babies use all of their senses to explore the environment (including their mouths!) we offer opportunities for them to mark make with edible resources such as custard, beans and oaty porridge!
The Butterfly Room Family Tree
When we welcome new babies into our room we invite you to bring in photos of your family for our 'Family Tree' to be used in settling your child. By displaying family photos we are able to talk about parents, siblings and family members with the babies, reassuring them that you will be back to collect them.
The babies have free access to such photos as they are attached with velcro and therefore can be used by your child to build a relationship between nursery and home.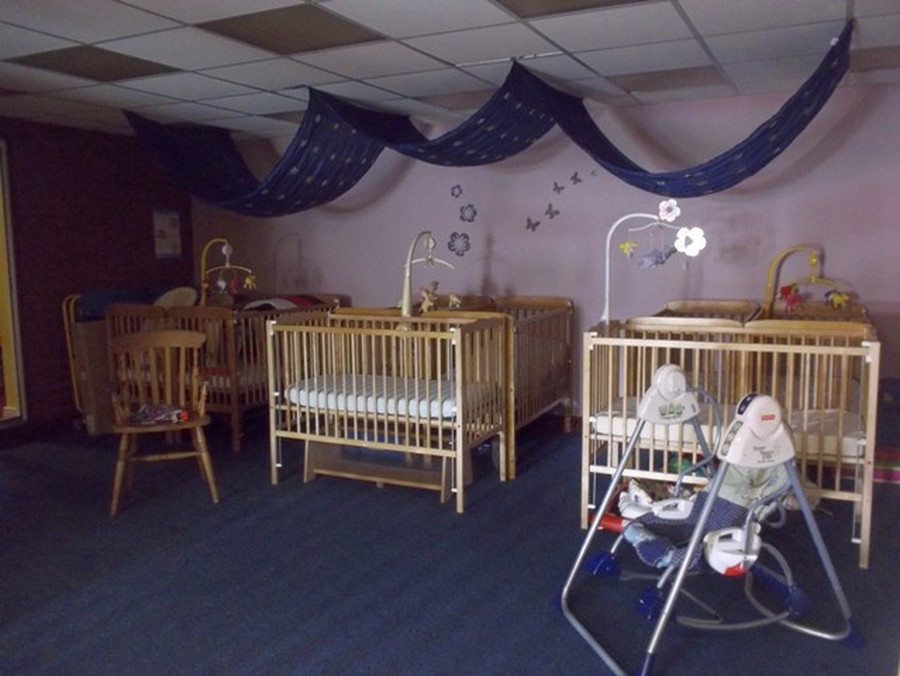 The Butterfly Room Sleep Area
We have our peaceful area for the babies to settle and sleep. It is painted in a calming lilac to aid tranquility as the babies drift off to sleep.
We play calming music and there are mobiles hung above the cots for the babies to watch and listen to as they have their naps.
We follow the babies home routine and so they can sleep at any time, with dimmed lights.
The sleep area is situated next to the Butterfly Room so we are able to observe the sleeping babies at all times.
With our on site facilities we ensure all bedding, cot sheets and blankets are washed daily, ready for a fresh sleep the following day!
The Butterfly Room Kitchen

Attached to the Butterfly Room is our Baby Unit Kitchen. Here we have highchairs for the younger babies and small table and chairs for the older babies to sit at whilst they enjoy their breakfast, snacks, lunch and tea!
Meals are made on site using the recommended 5 a day, with as much fresh, local produce at possible.
The babies are encouraged as much as possible to develop hand-eye coordination and independence, preparing them for being a Toddler!
We have displays of the children eating a variety of healthy meals, representing the different stages of 'cutlery skills' from using their fingers, practising the 2 spoon technique, to using a spoon and fork independently. These displays make our Kitchen a colourful, happy environment, while supporting parents in their understanding that babies playing with their food, making marks in their custard and creating a big mess as they try and aim for their mouths are all important and special stages in them each devleoping the skills and coordination to feed themselves independently!
Within our baby kitchen, we also have our own Bottle/Medications Fridge, Bottle Warming facilities, Sink, Dishwasher, Washing Machine and Tumble Dryer - all these necessities are fenced off from the children's access to ensure our high level of Health and Safety is maintained.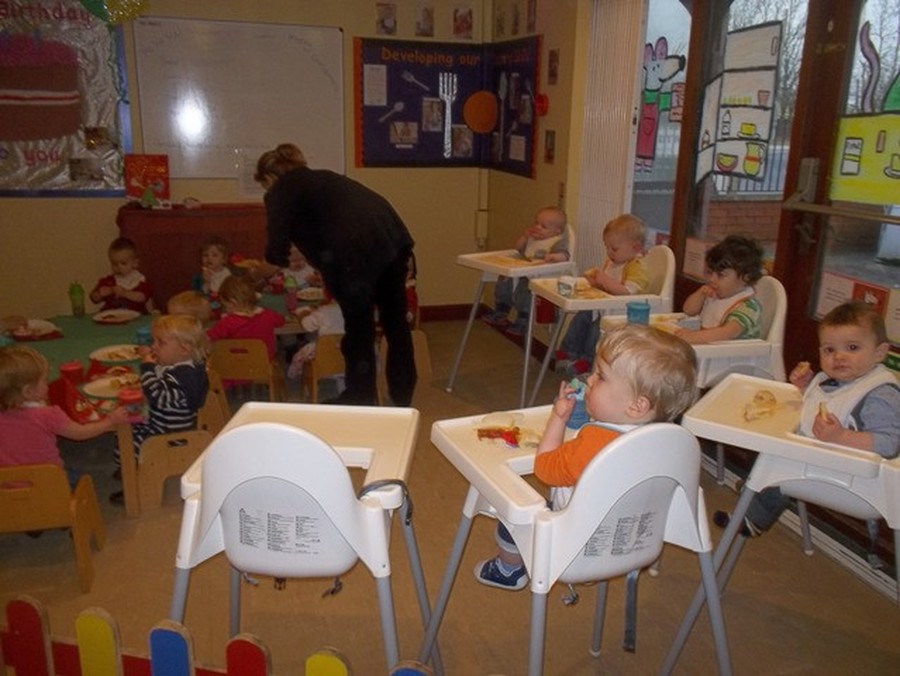 The Baby Unit Garden!!!
We are sooo excited for our brand new garden, created for us to utilise the space outside the Baby Unit kitchen!

Our private garden will allow the babies to experience the outdoors flexibly to fit in with their individual routines. It will provide sun, shade and shelter and sensory, tactile and contrasting experiences to support your child in their holistic development.

<-- Watch the progress of our garden!
We can't wait to get in!